Vladimir Panov, associate professor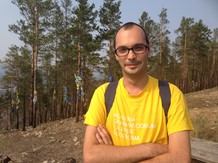 I am a scholar in linguistic typology and general linguistics. The sphere of my research interests covers such topics as the typology of grammatical categories of the verb, the typology of discourse particles, boundaries between morphology, syntax and discourse, language-particular description of grammatical and discourse phenomena, the areal typology of Eurasia. In my research, I combine the traditional Greenbergian typology based on comparative concepts with elements of multivariate typology, but I am also interested in constructionist usage-based approaches and, recently, practice-oriented frameworks of linguistic anthropology.
I have fieldwork experience studying the living Greek dialects of Italy (Salento) and the Buriat language.
My last personal project (a postdoctoral study, 2018-2020) was devoted to the study of areal patterns of distribution of discourse particles in Eurasia. More recently, I have been involved in "The Baltic verb" project studying aspects of the grammar of the Lithuanian verb in a typological context.